SIRE'S SIRE: ++*B LONGMAN'S BOLD BRITON

SIRE: +*B LONGMAN'S BOLD MONTANA

SIRE'S DAM: 6*M LONGMAN'S VERONICA VERNA

DAM'S SIRE: PROMISED*LANDT SHAMNA

DAM: PROMISED*LANDT WILLOW

DAM'S DAM: PROMISED*LANDT ANYA


We are very excited to add Promised*Landt Boldacious to our herd! Thanks Bea Landt for this wonderful AI buck. He combines many of the tried and true lines that I have had through the years. Promised*Landt TNT had tremendous scale of bones and correct legs. He also improved udders from dam to daughter very consistently. Promised*Landt Anya's sire is +*B Sadda Magic Kandlairo. I have owned some of his granddaughters and they have such style and heavy milk production. Anya's dam Promised*Landt Ariel is the daughter of one of my first buck's (Promised*Landt Kipco) sire CH *B Jasperhollow Smooth R Kipling (LA 03-03 90 EEE). Promised*Landt Boldacious has exceptional breed character and scale of bone plus wonderful dairy skin. His dam is a very heavy producer so we look foreward to seeing what Boldacious does for us in the future!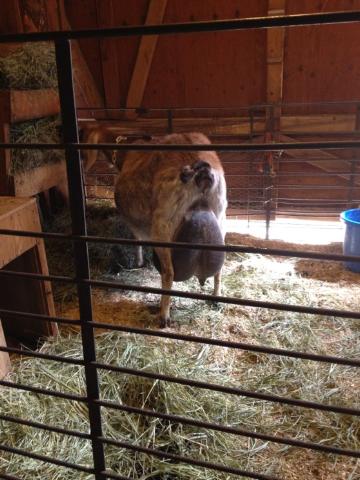 Promised*Landt Willow dam to
Promised*Landt Boldacious!